Interested in blogging? We now offer our readers a platform to share their articles and engage with peers from across the globe.
Blog topics : My Liveable City has always discussed and debated the following 5 themes and we are now keen to hear our readers's views on them, (request you to adhere to the topics listed below, unrelated posts will be taken down by the admin) :
1. Affordable Housing
2. Inclusive Cities
3. Landscape, Environment & Sustainability
4. Technology & Innovation
5. Culture of Cities
Maximum 500 words, image size should be less than 1MB. Ensure that you read our
Social rental housing and Covid 19
Posted by : Mutum, Delhi, India, Architect Urban Planner

14 Jul, 2020 23:36:31
Rental housing demand in cities is predominated by the lower income category who do not have the capital to construct or buy a house, and due to the nature of their work and period of stay chose to live in rental accommodation in grey market. The migrant workers are more vulnerable as their living expenses are edge to edge and do not have savings to sustain a long period without income. These people prefer rental housing because of its low entry and exit cost, preferred location near work place, etc. However, there has been a huge gap in demand and provision of affordable rental housing in cities. This has led to development of informal settlements which lack basic amenities and infrastructure, liable to vulnerabilities and above all tenure insecurities.
In the present emergency situation (Covid 19), it has been proven that they cannot sustain living in cities more than 15 days without income. This has led the government to response to the need of their housing to bring them back to cities as well as retain them for the economic sustainability of cities through Affordable Rental Housing Complexes (ARHCs). The beneficiaries will include urban migrants, poor from EWS & LIG, informal workers like street vendors, rickshaw drivers, migrant working in market and trade association, manufacturing units and hospitality sector, tourist, long term tourist, students and industrial workers, and people working in educational and healthcare sectors, etc.
Ministry of Housing and Urban Affairs under PMAY-U has initiated the Affordable Rental Housing Complexes (ARHCs) in the same jurisdiction as PMAY-U covers including statutory towns including notified planning areas, development authorities, special area development authorities, industrial development authorities and any other areas as notifies by State/ UT Government which will be focused on two models through a PPP model.
In order to incentivize the PPP model as mentioned above, the Central Government has a proposal to provide concessional project finance under Affordable Housing Fund (AHF) and Priority Sector Lending (PSL), exemption in income tax and GST on any profit and gain from ARHCs, Technology Innovation Grant (TIG) for promoting use of innovative technology. The State Governments/ UTs will provide land use change permissions, 50% additional incentive FAR/ FSI, fast track approval within 30 days through single window clearance, trunk infrastructure to the project site and municipal charges at par with residential property. The period of the projects under ARHCs is 31st March 2022.
The initiative seems like the glitters of gold, some question still remains unanswered. As claimed by the Central Government that such housing units of approximately 1.8 lakhs are already existing on ground, where are they located, what are the condition of the amenities, what allied facilities like parking for cart/ rickshaw/ cycle, creche facilities, e-vehicle (e bikes and e rickshaws) charging points, single-window delivery of social protection schemes- rations and other emergency aid, etc. Research have shown that if not for appropriate location, such vulnerable segment of population is further marginalised and social crimes are predominant in such areas.
Inclusive Cities
Posted by : Renu Singhal, Hyderabad, India, Urban Designer, Faculty Member

30 Jun, 2020 15:00:09
The whole world came to a standstill.
There was silence all around.
Gradually one heard the chirping of different bird species and the croaking of frogs.
From terraces, stars and distant mountain ranges became visible.
Streets and gardens became the new habitat of peacocks, deer, tigers.
It was as though when humanity was confined, nature found its place in the city.
Without the frenetic pace of life, the daily rushing about, we survived - some of us happily.
Families bonded over shared chores, food, recreation.
Physical distancing did not mean social distancing as the internet brought people together from all over the world.
The downside was a social isolation, even within homes, and the overuse of and dependency on digital mediums and the virtual world .
Of course one does not envision a dystopian Huxleyan future where one is homebound and dependent on and connected through technology alone.
However, it did make us realise that we need to rethink our cities to be more equitable, sustainable, resilient. Rethink family, community, society, livelihoods.
Projection 1: Looking to futuristic vertical cities. Mixed use buildings, energy efficient, biophilic , sustainable, gardens in the air. Helipads on rooftops, PRT and space shuttles zipping around in the sky; MRT and private vehicles below ground. The land free for people and urban agriculture. Food in the vicinity, recharging of ground water , recycling , replenishing the earth through bio-waste management .
It raises questions about the quantity of energy utilised, the disconnect from the ground, the earth itself .
Projection 2: Retrofitting neighbourhoods. Redistribution of resources, comprehensive energy, water, waste management and efficiency. Creation of local urban agriculture community spaces along with other community facilities of neighbourhood planning . Affordable, inclusive housing . The creation of sub-neighbourhood segments for the availability of daily needs, as well as to foster a sense of community belonging and responsibility . Whom does the city belong to? ' It belongs to me ' should be the generated response with greater public participation in decision making and events .
With nearly all members of a family needing to commute to work or to higher education institutions, urban mobility needs to be restructured . While co-working spaces can be created in neighbourhoods to cut out some travel trips, it would not be enough. Mass public transport could be supplemented by e-shuttles, and point to point transport for fewer passengers, reducing wait time and the use of individual private transport.
Since the majority of cities are not structured as neighbourhoods except in terms of areas for the ease of the functioning of local urban bodies, it would be important to create that sense of neighbourhood through a redefinition in physical terms. It could be done through connection with existing landmarks, parks, streets, buildings .or the creation of new socio-economic opportunities.
Creating a general blueprint , and fitting it to local areas through local area studies and subsequent local area plans could create more liveable sustainable cities.
Inclusive Tier 2 & 3 Cities of India
Posted by : Mayur , Belgaum, India, Urban Design

15 Jun, 2020 20:59:10
The Constitution of India gives all of its citizens certain Fundamental Rights out of which Right to Freedom which includes Freedom of expression, assembly, movement, more specifically in the physical aspect, can and should be upheld by not only by the urban designers but also the ULBs and DAs.
COVID19 has taught all of us that interdependence works far better than independence. Hence, taking this emotional intelligence (EI) forward, it will be interesting to make our Indian cities healthy, convenient and beautiful, in the future. As we are bound to maintain physical distancing for many months after COVID19, our ULBs and DAs in discussion with the urban designers should make provisions for wider footpaths and adequate sanitization facilities in addition to plentiful restrooms, seatings and garbage bins along the entire walk circuit of the cities.
It may also be wise at this time to revaluate our Tier (2 & 3) city making process. Are our civic spaces democratic? Convenient? Inclusive? I think, not yet. We have missed a strong factor within the convenience aspect of our cities, so far. That factor is called as Crime Prevention Through Environmental Design (CPTED). CPTED makes the women, children and the elderly of our cities feel safe when they are out of the comforts of their homes into the streets or other civic spaces. Thus, safety is a part of convenience as you could see. I believe that cities can be inclusive for all of its residents and visitors, only when the civic spaces are truly democratic in nature. Hence, continuous circuit of wider footpaths based on ergonomic and COVID19 studies, adequate lighting of the streets and civic spaces, appropriate landscaping which doesn't block sightlines, surface finishes that are easy to maintain, clean and walk upon, are the need of the future. Access locations/ Egress locations of our streets or civic spaces should be well monitored by natural surveillance. The edges of our streets and civic spaces like parks and playgrounds should be well guarded physically using porous fences/ grilles, so that no physical harm is caused to the user from any accident. Public transport adds to the inclusiveness of the cities. Choices are integral part of democracies.
Lastly, the aspect of beauty is essential for not only imageability of any city that tells one city from the other, but also it enhances psychological well-being. Just as the blue-green-brown ratio of any city marks its liveability, similarly the beauty aspect of any city adds up to the attractiveness of any street and (or) civic space. Thus, ULBs and DAs along with urban designers should write the future of our Tier (2 & 3) cities for an inclusive democratic outcome.
Webinar : No Place But Home - The New Abnormal: The Future of Co-Existence & Unsocial Distancing
Posted by : My Liveable City, Mumbai, India, Global Knowledge Platform

21 May, 2020 14:52:21
Mr.Shyam Khadekar, Co-Founder & Director, My Liveable City participated in a webminar on the future of city planning in the post COVID19 scenario. The webminar was conducted and moderated by Lou Zacharilla and John Jung, Co-founders of Intelligent Commmunity Forum.
Click this link to watch the full discussion : : https://www.youtube.com/watch?v=jqaHhC2JrqQ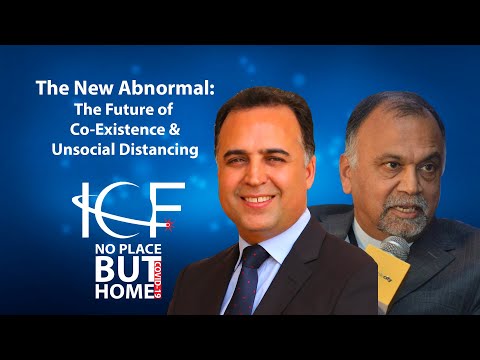 Including People on Urban Stages
Posted by : Genoveva, Buenos Aires, Argentina, Architect

20 May, 2020 22:22:19
When we think on an ideal city, urbanism means including all. Who has access to some areas or fragments of a city and who stands apart. Three main aspects can change our ideals when we dream on Inclusive Cities.
Priorizing Children and Adolescents first
When we design different zones and areas in a city plan we cannot leave aside groups, thinking mainly that our urban interventions must involved children and adolescents, adults, senior, and pets. Designing a square with a playground for children must include games and green areas too. Hammocks, see-saw, monkey bars and other climbing structures but also a sand box, or any other logic games such as chess, cards or other table games or art centres in order to include everybody; but also given freedom for kids to choose with what to play and not imposing "a way" of playing, a mode they must follow.
The dimension of this area cannot be for few as the playgrounds we can see nowadays. Few games and scarcity, but also standardization tend children to play in a limited way. Little place to run, or to interact with other infants are not well seen. We must have in my mind when design inclusive parks for our kids to build structures where children can use their senses to get along, interact and create while they play and not given them fixed or so stilled areas.
Zones in Zones
Another fact to have in mind when we think of an inclusive city is mixture. Thinking in formal and informal market can guarantee access to everybody. Street markets, second hand stalls together with shops and galleries can provide a combination of shopping and walking, for different tastes and budgets.
The same for housing and neighbourhoods. The main aim to provide areas where having a life can be easy in terms of moving, transporting, producing, shopping, studying, Medicaid, and expansion. Reorganizing building areas or villages can be a big chance to propose a mixture of activities; this means a zone in another zone; overlapping neighbourhoods instead of economical or social segregation materializing politics of gender, minorities, and migration, providing access for all.
Identity Sites
People need to feel they are part. So designing inclusive cities must include a good regulation on urban scales in order to adjust cities to people, to pedestrians mainly. Therefore there would be people being part of a city: they will be main characters of a scale that fits for them. We can go over and redesign outdoors, financial centres, malls, freeways, and downtowns for people, who will be in first scene on stages, architect and planners, are going to offer. As a consequence, people will live places and areas adding a personal meaning.
So let's go on walking along the riverside, driving for work through green blocks or going around downtown can be ways we make our places of our own, places and cities that include us all first.
The Etalin Project- Beyond the Damned Development
Posted by : Anushka, Mumbai, India, Student

19 May, 2020 15:09:20
Human-animal conflict, rise in sea levels, climate change and all the impacts on the environment due to human activity have somehow contributed to the rise of this pandemic. We should thus be aiming at coexistence with other beings and live in harmony with nature, for we don't have another planet to survive on. Sustainability has become subjective to various bureaucrats around the world and is being defined in ways one could only think of. Just when the lockdown began, India's environment ministry has been on a clearance spree to claim various developmental projects sustainable, when scientists and conservationists have condemned to it strongly with necessary evidence based on numerous ecological and social factors. Coal mining, hydel projects, thermal power plants and what not; such disasters in the making are paving way in India's most biodiverse land across states like Assam, Arunachal Pradesh, Mahrashtra, Karnataka and the list goes on. Many of the reserves and protected areas being World Heritage Sites. One such project gained massive momentum from the public who strongly oppose the project via emails and petitions through social media campaigns-The Etalin hydel project about which you can read more on my blog. The project has been claimed as sustainable but requires the felling of 2.7 lakh trees in the Dibang Valley which is also a seismically active zone and home to the Idu Mishmi tribe which have conserved the forests for decades together. The dam aims at generating 3000MW of electricity but the purpose of such tremendous power is still not clear due to the lack of transparency of information from the project proponent as well as the environment ministry's side. It questions the credibitly it holds when it has been claimed sustainable but opposed by nearly 290 scientists. Do we really need to reframe our definition of sustainability then? For putting the planet at stake would do good to no one.