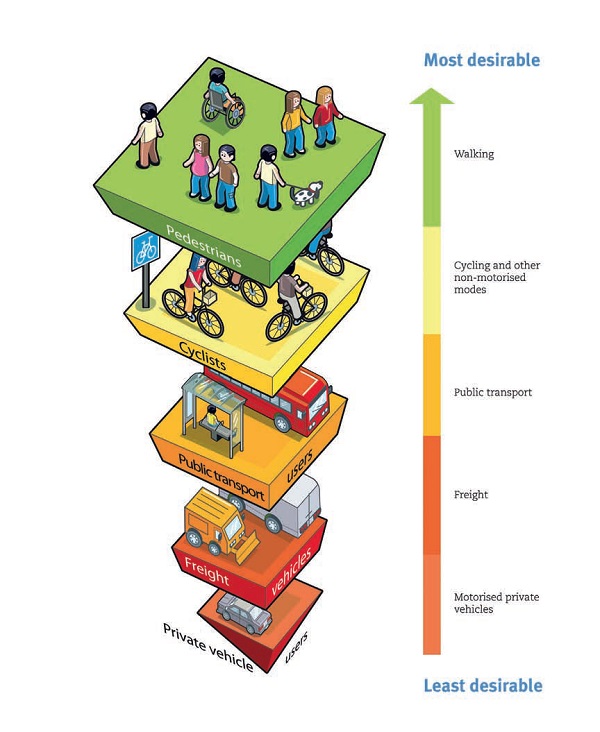 The United Nations Development Programme estimates that India's urban population will grow from 419 million in 2015 to 583 million by 2030, an increase of nearly 40%. Stated in another way, Indian cities will house the entire present-day population of its eastern neighbour, Bangladesh (presently eighth in the world with 166 million). Given that our population explosion is nowhere close to being defused, concerns regarding myriad issues are bound to increase. Among these worries, urban mobility rattles many warning signs and is in need of some serious contemplation and timely intervention.
As per the Indian Census (2011), less than a quarter of all urban work trips are on personal motor vehicles (and less than 10% by personal cars). The remaining trips are served by sustainable modes: walking, cycling, and public transport. Indian cities look great on paper. But, the ground reality is starkly different.
Formal public transport is poor or non-existent. Uncomfortable, unsafe, and polluting informal public transport services fill the gap in most cities. Walking and cycling facilities are completely missing or unusable where they exist. People use 'sustainable' modes out of financial compulsion, not out of choice. On the other hand, personal motor vehicle ownership is doubling every decade, at nearly thrice the rate of the population growth. Cities are choked with traffic and pollution. Road fatality rates are 20-25 times those of developed countries.
As more and more people depend on personal motor vehicles for their travel needs, cities try to accommodate this deluge of traffic by expanding roads, building flyovers, and increasing parking space. However, such automobile-centric planning practices cause cities to spread outward, resulting in longer commutes and more traffic on the roads. All this gives way to a toxic and incessant cycle of rising infrastructure costs, user costs, travel times, and pollution levels besides trafficc safety worsening. It is safe to say, resorting to a business-as-usual approach might lead us to a dreary future.
To become smart, Indian cities must embrace a radically different approach to urban mobility: one that focuses on efficient and sustainable forms of mobility. Large- and medium-sized Indian cities must invest in an extensive network of rapid transit along with a wide coverage of frequent, high-quality urban bus service. Further, cities of all sizes must invest in safe and convenient walking and cycling infrastructure.
Cities must also adopt a transit-oriented development (TOD) approach to create dense, yet liveable neighbourhoods along mass transport lines. This ensures that trips remain short and convenient and cities remain compact. The aim should be to provide safe, convenient and attractive mobility options for all while restricting the vehicle-kilometres travelled by personal motor vehicles to no more than present levels.
Rapid transit in India: A global comparison
A global comparison of rapid transit projects reveals that India has just 3.2 kilometres of rapid transit per million urban residents (counting only cities with a population of more than half a million). That is, a third of its peers China and Brazil and less than a twentieth of France.
Countries like Brazil, Colombia and Mexico not only have much more urban rapid transit per capita than India but are expanding their systems at a significantly faster rate. The reason behind this is Bus Rapid Transit (BRT), an inexpensive and quick-to-implement rapid transit mode that can provide metro-quality service. BRT systems not only have dedicated median lanes to bypass congestion, but also have feature elements like step-less boarding, o-board fare collection, and real-time passenger information that reduce delays and improve customer service.
To keep pace with its urban growth, India has to add at least one kilometre of rapid transit per million urban residents over the next two decades. However, at the present rate of building rapid transit in India, it would take at least 3-4 times longer, by which time the need for rapid transit would have increased even more. India is not investing in sustainable urban transport at anything close enough to meet even basic mobility needs, much less to address the issues of inequity and environmental degradation that are growing faster than the population.
Smart Rapid Transit with Buses
The Ahmedabad BRT system — known as Janmarg or 'the People's Way' — revolutionized the perception of bus transit in India. In just three years (2006-2009), the city planned and implemented its first 12.5 km corridor. Within a span of five years (2009-2014), Janmarg has spread across the city with a network of 88 kms. Ahmedabad demonstrated that BRT can provide high-quality service at a fraction of the cost of rail-based systems and has inspired similar BRT efforts in other cities like Indore and Surat. It also helped the Pune region rethink its BRT design.
In 2015, the Pune Metropolitan Region saw the launch of Rainbow BRT. Today, the Rainbow BRT operates on a 38km-network of bus-only lanes; an additional 43 kms of such corridors are on the cards. Bus operations are monitored from a central control centre using real-time data from GPS tracking devices on buses. The system uses a fleet of Euro-IV CNG buses to contain emissions and is considering inducting e-buses. Rainbow BRT has also demonstrated the possibility of inducing people to shift from personal motor vehicles to public transport. Around 12 percent of its riders used personal motor vehicles for their commutes earlier.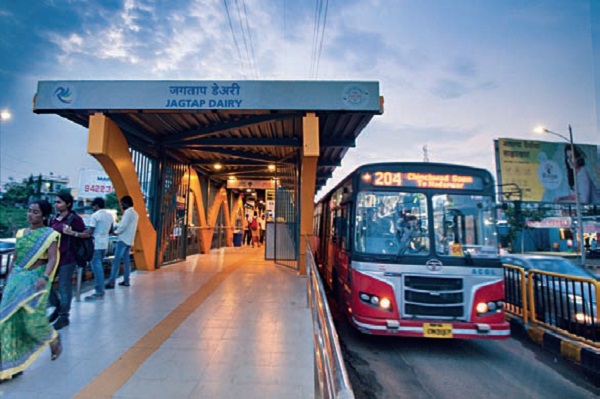 Walking, cycling and buses: Basics of urban transport
Rapid transit, while important, is not enough. Many Indian cities have skeletal bus services or none at all. In their absence, people depend on informal public transport modes like shared autos that cause pollution and sometimes unsafe. As a privately run service by individual owner-operators, they do not provide services when demand is lean, thereby reducing mobility options for people. These shared modes tend to be more expensive than well-run bus services and due to fragmented operations, force people to transfer more than required. Hence, a formal bus-based public transport service is a necessity in all cities. In all, Indian cities will need over 300,000 new city buses and minibuses in operation by 2030.
A third to half of all the trips in our cities are made by foot or cycle, which are clean modes of transport. Public transport trips start and end on foot, making walking integral to India's transport systems. Therefore, cities must focus on redesigning streets to support walking and cycling. Indian cities need to build at least 32,000 km of wide and accessible footpaths and 16,000 km of safe and convenient cycle tracks over the next 15 years.
In 2014, Chennai became the first Indian city to adopt a non-motorised transport policy to promote walking and cycling in the city. The Greater Chennai Corporation has proposed to create a safe and pleasant network of footpaths, cycle tracks, and greenways through the entire city to arrest the current decline in walking and cycling. Over 50 km of streets have been retrofitted with better walking infrastructure, with another 50 km under implementation. Streets with wide carriageways and narrow or no footpaths have been replaced by wide, continuous and unhindered walking spaces, safe pedestrian crossings, properly scaled carriageways, conveniently placed bus stops, and clearly designated on-street parking.
Pune is also becoming a trendsetter in sustainable mobility solutions through multiple initiatives. The results of the Pune Streets Programme are nothing short of awe-inspiring.
Pilots on JM Road and DP Road have been lauded across the country and have won multiple awards. The programme, which proposes 100 km of street networks, has become the flagbearer of complete street designs that are aesthetically pleasing and, most importantly, make walking a joy. Pune also became the first Indian city to adopt its own Urban Street Design Guidelines.
With work speeding up on creating infrastructure to support pedestrians and cyclists, Pune put forth the Bicycle Plan. The plan envisions a 400-km cycling network in the city. In 2017, Pune piloted a dock-less public bicycle sharing system starting with 4,000 cycles. It is planning to go up to 8,000 cycles by March 2019. Following Pune's lead, its twin city Pimpri- Chinchwad has initiated work to redevelop 70 kms of streets. It has also piloted a cycle sharing system connected with its BRT network. Presently, the system has 600 bicycles operating between 28 stations.
| | |
| --- | --- |
| Police Commissioner Road, Chennai (before) | Police Commissioner Road, Chennai (after) |
Building cities around transit
Investments promoting walking, cycling, and public transport will not bear fruit unless Indian cities stop counterproductive car-centric investments like flyovers and elevated roads. No city in the world has solved its congestion problem by building more roads. Our cities should follow a simple mantra: build transit, add density, and control parking. Cities should encourage higher densities in areas where there is good connectivity to mass rapid transit. They must also actively control personal motor vehicle use through parking restrictions and market-based pricing.
Though the conversation revolving around sustainable urban mobility in Indian cities is muffled, some states are taking the lead to spark the dialogue. The Maharashtra Urban Mobility Policy looks to develop urban transit systems, which would reduce the burden on resources and, most importantly, offer an equal space to every commuter, thereby facilitating walking, cycling and usage of public transport. The policy offers tangible metrics for infrastructure implementation, accessibility, reduction in personal motor vehicles, and follows each action with adequate training and support offered by the state government.
The laxity in regulating and managing parking is an oversight that has been plaguing Indian cities for a while now. Multiple studies denote that unabated on-street parking adds to congestion, rising emissions, and on-road vehicle density. Another roadkill to the list, that most cities overlook unintentionally or otherwise, is the revenue loss due to unrestricted on-street parking. Waiving o parking charges is equivalent to culling a golden-egg laying goose.
According to reports, the Greater Chennai Corporation stands to gain Rs.550 million per year in revenue from the pricing of about 12,000 ECS (equivalent car spaces) of parking in Chennai: a whopping 110 times increase in revenue from what it presently earns. Parking fees should be pegged to parking demand — higher the demand, higher the fee. This revenue generated from parking can be used to build, upkeep, and sustain better walking and cycling infrastructure and to expand public transport.

Take the case of Ranchi, where a pilot parking management project on the arterial MG Road stretch led to a twelve-fold increase in parking revenue. Even the state of Jharkhand, spurred by the revenue spike at Ranchi's pilot parking management project, invested efforts to regulate parking as a statewide regulation. Chennai is also moving ahead with its ambitious parking plans.
The Pune Municipal Corporation (PMC), through its parking policy, makes a case for limited parking. In areas with good connectivity to mass rapid transit, the emphasis is on controlling parking supply. As per the policy, the city will be divided into multiple parking districts. Parking rates in these districts will reflect rentals in the area, size of the vehicle, and levels of congestion in the area.
PMC had also proposed, in its 2016-17 budget, to spend 50% of its transportation budget on footpaths, cycle tracks, and BRT. Thus, prioritising spending on sustainable transport over car-oriented infrastructure. Revenue generated from parking will also be used to build streets with better walking and cycling infrastructure, as well as to expand public transport. Many vehicle-free zones are also planned, particularly on busy shopping streets.
The way forward
The benefits of adopting such a sustainable transport approach are many. It can bring down capital expenditure, fuel consumption, pollution levels, and travel costs, saving money for government and individual citizens. Building safe streets that support the needs of all road users can also save tens of thousands of lives.
The Smart Cities Challenge has clear guidelines to promote walking, cycling, and public transport and will see an investment of around one trillion rupees (including central, state and city contributions) over five years to develop best practices in the urban sector. Though these are good signs, implementation challenges remain. Access to funds, while essential, is not enough. Cities must also improve their capacity to plan and deliver high quality projects, by creating institutions with clear authority to plan, design and implement. Cities that have the ability to create a sustainable, equitable, and liveable future are the truly 'smart' ones.